Mastercam Design is a computer-aided design solution that simplifies the creation of even the most complex parts with a robust suite of CAD tools. Mastercam 2024 is here and elevates your machining experience with powerful toolpaths, flexible tool motion, and our most intuitive interface yet. Here are some top CAD features—and how they can help your shop.
Note Workflow Improvement
Mastercam 2024 improves efficiency with a simple change to the Note workflow. In previous versions, you would have to interact with the panel every time you wanted to add or delete a leader line to a note. Now, you can simply indicate the new position in the graphics window to add additional leader lines.

Enhancing MCO Conversion Options for Component Models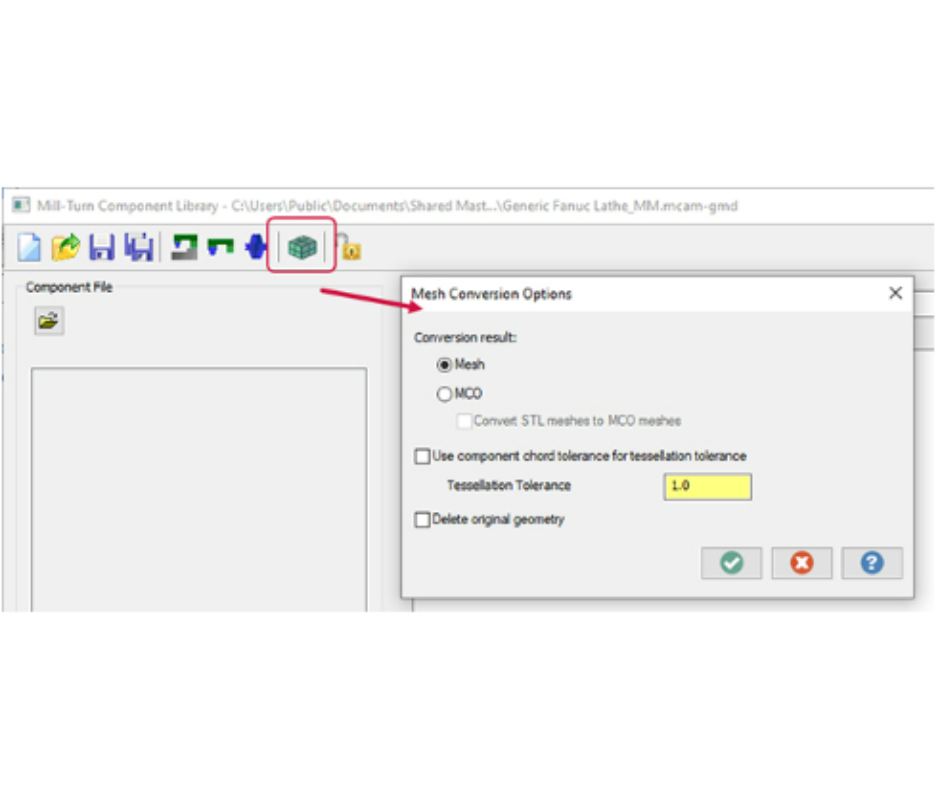 Typically, the solid models in .machine files and component libraries are converted to Mastercam's proprietary MCO format before being released. This is an encrypted mesh format that prevents the models from being edited, preserving the intellectual property of the person/company who supplied the models. In Mastercam 2024, this functionality has been enhanced so that models can be converted to either regular Mastercam mesh entities or MCO entities.
Controlling the Orientation of Disassembled Solids or Mesh Bodies
Mastercam orients disassembled solid and mesh bodies on their largest, flat face. The only way to control the orientation of the disassembled solids was to enable Face Selection and disable Body Selection, making it possible to place specific faces on the layout plane. But, you can't use this method if the opposing faces of the selected bodies were equal. To provide more control in these situations, Mastercam 2024 lets you use the color of a face to orient the disassembled bodies.
Solid Hole Enhancements
There have been many enhancements to Mastercam's hole-making functions that will be helpful in drilling and Process Hole operations.
Smooth Edges of Solid Holes: Mastercam 2024 now offers an easy way to break the hole edges in solid parts. Hole operations in this release now include options for edge treatment from within the function panel. Before Mastercam 2024, you could only create a chamfer at the top edge of a hole. With 2024, a new Top Edge Treatment allows you to create either chamfers or fillets on your hole edge.
Create New Operations from a Single Hole Operation: Mastercam 2024 makes incorporating design changes to existing holes in your solid easier. New options in the Solids manager and the Hole panel allow you to create, move, or copy hole operations from hole operation groups.
Changing Direction of Existing Through Holes: In Mastercam 2024, a new Reverse Hole button has been added, allowing you to flip the direction of selected through-holes. It moves the hole's associative point to the opposite end of the hole and reverses the vector.
Smoothly Attach Spline Endpoints
Mastercam 2024 adds more improvements to wireframe modification. A new option in the Edit Spline function creates a smooth transition from the endpoint of the selected spline to an endpoint on another entity. When you select the Align end tangents option, Mastercam matches the tangency of the repositioned spline endpoint to that of the destination endpoint. The blended geometry results in a continuous curvature of the geometry and a better foundation for surface creation.

Trim, Break, and Extend Wireframe Entities
With the new Dynamic Trim functions, Mastercam 2024 introduces multiple trimming functions into a single panel. Dynamic Trim combines Trim to Entities, Divide, Trim to Point, and Modify Length into one panel, allowing you to easily apply any of these functions to wireframe geometry without having to open a separate panel.
Learn more.
https://cutt.ly/AXSYSINCBLOG_CAD